Published on November 24, 2015
Budget highlights include funding for police body worn cameras, increased spending on Transit and $16 million for stormwater maintenance activities and projects
COLORADO SPRINGS, Colo.—City Council approved today on a 8-1 vote, the 2016 City budget with no significant changes to the original budget proposed by Mayor John Suthers Oct. 5. The 2016 General Fund budget is $266.8 million, an increase of $8.1 million or 3.1 percent from 2015, largely due to increased 2016 sales tax revenue projection.
2016 General Fund Highlights:
Essentially reconstruct the Stormwater Enterprise fund and commit $16 million from the City for storm water maintenance activities and projects (with an additional $3 million from Colorado Springs Utilities making total stormwater expenditures at $19 million per year).
$840,000 in funding through General Fund and grant funds to implement a Body Worn Camera Program at the CSPD, which will improve transparency and accountability in contacts between CSPD and the public.
$814,000 increased funding from the City's General Fund to Mountain Metro Transit – increasing funding from $4.3 million to $5.1 million, to bring the City closer to the $5.7 million maintenance of effort commitment made in 2004 when the PPRTA was created.
The first phase of a two-year phase-in of a Business Personal Property Tax (BPPT) Credit Program.  For 2016, the tax credit will be equal to one-half the amount due on 2016 Property tax statements.  This program is designed to reward and encourage business expansion and relocation – making the City's business tax environment more competitive and equitable across industries.
$400,000 for architectural and engineering plans for a new Sand Creek Police Substation to replace the current station which will allow the Colorado Springs Police Department (CSPD) to more effectively provide essential public safety services to the southeast part of the City. 
$250,000 from the General Fund, each year for two years, to fund the first Comprehensive Plan for the city in 15 years – a plan that will be relevant to today's economic markets, and land use planning principles which will reflect the City's vision to become a more progressive, mixed-use, revitalized and multi-modal community.
$75,000 funding for the Regional Business Alliance (RBA) – the community partner primarily responsible for business recruitment and retention.
$55,000 funding ($27,500 General Fund, $27,500 Lodgers and Automobile Rental Tax (LART) Fund) for the Small Business Development Center (SBDC) – an important community partner that assists with small business development and growth. 
Unavoidable increases for healthcare and contract costs.
All Funds Budgets: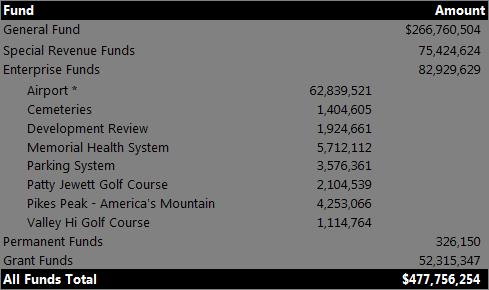 *Due to a change in budgeting methodology to properly account for transfers between Airport Specific Enterprise funds, the 2016 budget appropriation is significantly larger than in prior years
The table above does not include the budget for the temporary sales and use tax increase of 0.62% approved by voters in November 2015 (Road Repair, Maintenance, and Improvements Sales and Use Tax Fund).  The budget for this fund will be approved in January, 2016 and will add $50 million to the Special Revenue Fund total.