The Intermodal Transportation Plan (ITP) is the primary companion document to the Comprehensive Plan. It provides a central focus for all the City's transportation planning efforts. In addition to overall goals and objectives, the ITP includes the following major elements:
Roadway Element
Freight Element (i.e. Truck Routes)
Travel Demand Management
Transit Element
Bicycle Element
Pedestrian Element The ITP also has sections addressing Land Use and Implementation. Since it was adopted in 2001, the ITP has been amended several times for the following purposes, among others:
East-West Transportation Study (2002)
incorporation of "Complete Streets" policy (2004)
Transit updates
Truck route update (2009)
North Nevada Improvement Plan (2009)
Roundabouts
incorporation of land development approvals and 2004 recommendations County Major Transportation Corridors Plan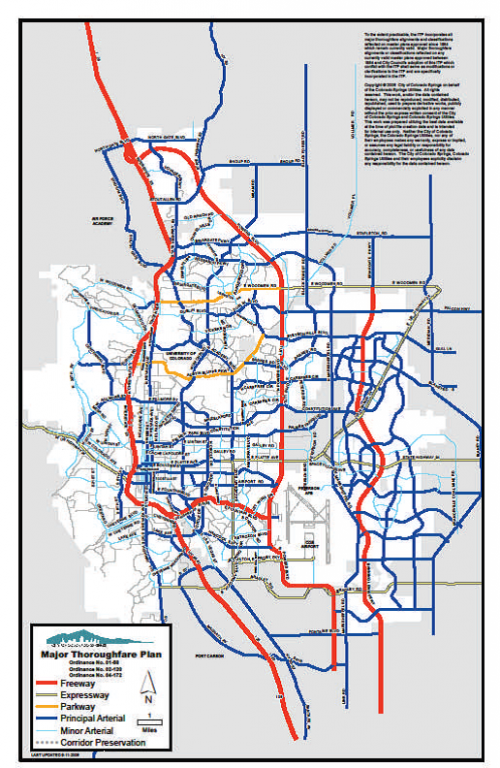 The Major Thoroughfare Plan (MTP) is a key component of the Intermodal Transportation Plan. The MTP provides road classifications for future planning endeavors.
Near term plans are to further amend the ITP to reflect the recommendations of the Academy Boulevard Corridor Great Streets Plan and to amend the Transit Element to reflect the updates to the Mountain Metropolitan Transit 2035 Long Range Transit Plan once these are completed. A more comprehensive update process was envisioned in 2012.